Therapy benches are now available in THREE sizes with the introduction of the NEW Extra Large Therapy Bench. Quest's Therapy Benches can play a significant part in helping children to progress from floor-based therapy to kneeling and from kneeling through to standing. Wider benches provide sufficient surface area for a child to support themselves, where capable. 
The NEW Extra Large Therapy Bench from Quest has been designed to serve as a multi-functional piece of furniture for a physio gym, home or classroom. For children of primary school age, the Extra Large Therapy Bench; compliments our small and large therapy benches and can be used by Physiotherapists and children alike. It can be used for sitting or as a soft top table. For secondary school aged children it can be used as a level or angled seat to support sitting and standing training.
Safe and reliable
Quest Therapy Bench fabrics, foams and adhesives have been tested in combination and conform to BS5852 Crib 5. The covers can be easily cleaned, whilst the upholstery has been carefully designed to offer superb levels of comfort and support.
The surface fabric has a slip-resistant quality making it ideal for children who use dynamic splints. Quest uses child-friendly lacquers for a perfect finish and high-grade plywood for strength and durability.
Colour Options: Blue, Pink, Yellow, Orange, Green & Red.
The Extra Large Bench has the additional feature of 2 omni-directional wheels and a handle to make it easy to move from room to room and manoeuvre in tight spaces.
By adding or removing supports*, children can be supported as little or as much as possible to facilitate the child and the therapist's requirements. The addition of hip, thoracic or knee supports enables children to be positively positioned, thus allowing the therapist to concentrate on other skill development, such as hand to mouth and cross body co-ordination
*Hip, knee and thoracic controls are available for the Small and Large Bench only.
If you believe you are eligible please note that you can declare VAT exemption during the online ordering process, please contact us if you have any difficulty.
Occasionally specifications and colours may change. To avoid disappointment, please contact our sales team for the most recent product information. Quest 88 Limited reserves the right to change product specifications without prior notice.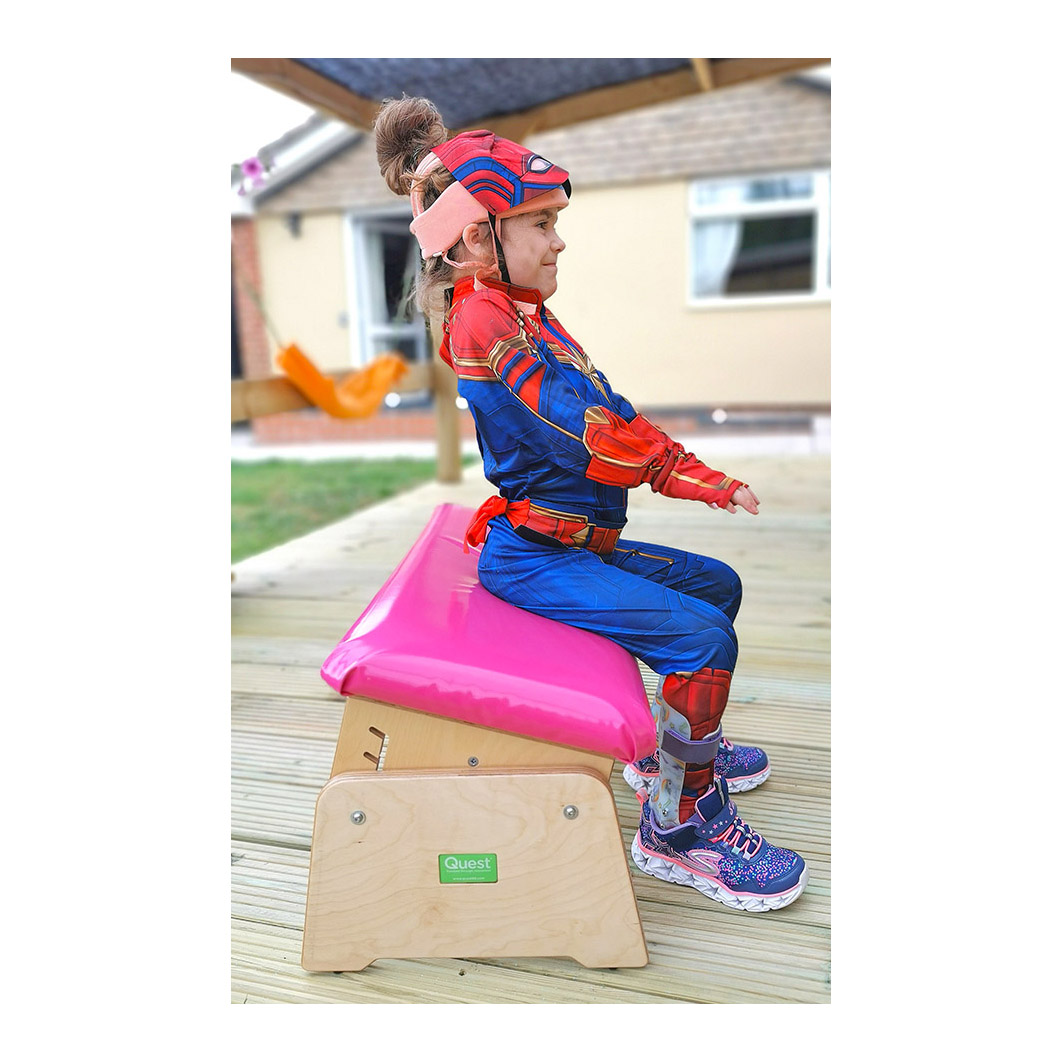 Quest therapy benches for seating and standing training