The Panther Therapy Tricycle is extremely robust, stable and is the largest tricycle in our Quest range. It is suitable for children from the age of 7 to approximately 12 years. (ages based on clothing sizes). It is available in a variety of colours.
"As a parent of a special needs 8 year old boy who attends the school, these bikes are an asset in supporting the children in their bike activities. The whole process of ordering and the delivery of the bikes has been easy and communicative".
There are a variety of accessories available to enable the trike to be adapted to each individual child's needs. We believe Quest Tricycles provide the best in terms of posture management and progressive development for your child, as well as great looks and features.
The Panther is a Therapy Tricycle and this means that it is not suitable for road use and that appropriate supervision is required according to the child's abilities. It is designed to assist with pre and post-op strength and conditioning as well as just good symmetrical exercise to improve motor functions, coordination, bone and muscle development.
The Panther Tricycle has a full 5 year warranty and comes with a free anniversary trike re-assessment and health check at your location (recommended after significant growth*) More information can be found by scrolling down.
 Quest Therapy Tricycles (evolved and evolving)
A simple, traditional design but with all the customised support you need; from one of the UK's leading designers of adaptive technology for children.
Posture Management Frame Geometry - the best riding position guaranteed.
FREE first anniversary trike health check and fitting check

.*

Heavier, more stable frameset with low threshold. Independent rear drive and coaster wheels make cornering safer.
Meaningful pedalling resistance to promote physical development and longer attention span.
Symmetry control - Midline control and better alignment of legs and feet.
Intuitive and reliable rear steer option for parents and carers.
Pedalling and Steering opt-out for tired legs and hands.
SAFETY - Fully enclosed chainguard. No wheel spokes mean no finger traps!
Assessments only carried out by Quest trained staff.
The standard Panther tricycle has a fixed drive. In simple terms, this means that when the pedals rotate, the drive wheel rotates and vice versa. This creates added momentum that assists with pedalling, which is beneficial to children with low muscle tone and strength. Our Switchable Hub option allows your child to advance onto freewheel when they have the strength, or simply use the function to push your child when tired.

All Quest therapy tricycles feature a coaster/drive rear wheel combination to make steering and cornering more stable. Optional accessories include hip and thoracic supports, footplate (sandals), ankle foot orthoses, chest pad, steering solutions, various handlebar styles, and head pad.
The key datum points on Quest therapy tricycles are critical and give the rider the ability to maintain a good posture and an efficient pedalling action.
Quest therapy tricycles can be separated into 3 parts for storage and transportation. The maximum weight limit for the Panther is 65Kg. The tricycle in its basic form weighs 35Kg (15kg front end, 20kg rear). Additional accessories will increase the weight of the tricycle. The Panther is available in several colours, and can be accessorised with our fun range of wheel discs. The Panther frame is also available in our Unicorn Scheme.
*The free trike re-assessment and health check is a one off event recommended before the 2nd anniversary of your purchase and after any surges of significant growth of your child. You simply activates this by calling us to arrange a suitable day and time.
Occasionally specifications and colours may change. To avoid disappointment, please contact our sales team for the most recent product information. Quest 88 Limited reserves the right to change product specifications without prior notice.
What are you looking for?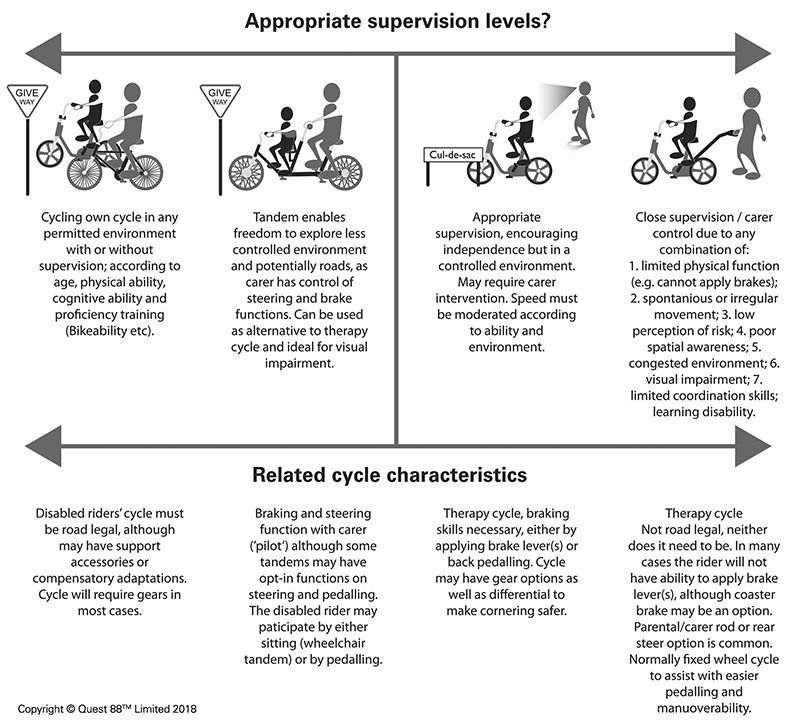 A bike for adventures big and small
The above graphic is designed to help you consider the kind of bike or bikes you need to meet your requirements - for therapy, for social interaction and also adventure. So what do you want to achieve? In some case we have cycles that can meet more than one objective. For example a tricycle that also has a trailer function can meet the 'closer to home' exercise objective AND the bigger family adventure away from home.