The Andros enables those with limited mobility to participate in cycling with family and friends. 
The great advantages of this wheelchair transport bike: the time-consuming transfer of wheelchair users from multifunctional wheelchairs and seat shells is no longer necessary. This means that the passenger can sit comfortably and safely in the familiar seat or a specially adapted seat shell. This is often what makes a trip possible for many people in the first place.
Postural interface with abductor wedge and seat wedge
Spoke protectors
Rearview mirror
Wheelchair hand-rims
The ANDROS wheelchair bike allows you to transport wheelchairs independently of others. It also makes you more mobile with your own wheelchair by increasing your range. And they promote your social contacts with excursions. In a nutshell: An electrically assisted version is available which uses pedal-assist technology and a Heinzmann hub motor limited to 15.5mph. (Complies with EAPC guidelines) 
In addition, the ANDROS is suitable for all standard manual wheelchairs. Thanks to the easy-to-use tilt mechanism, the front-loading area can be inclined and a wheelchair can be accessed without effort. We recommend the e-bike variant for wheelchair transporter ANDROS. Because you can comfortably drive uphill gradients or increase your range. The wheelchair transporter is also characterised by extreme manoeuvrability. The maximum total load of the wheelchair transporter is 250 kg, of which up to 150 kg on the transport surface at the front.
Optional Extras:
Spoke protection disks

Additional 2-point seat belt for wheelchair

Rearview mirror
Electric Motor
With further accessories available on request.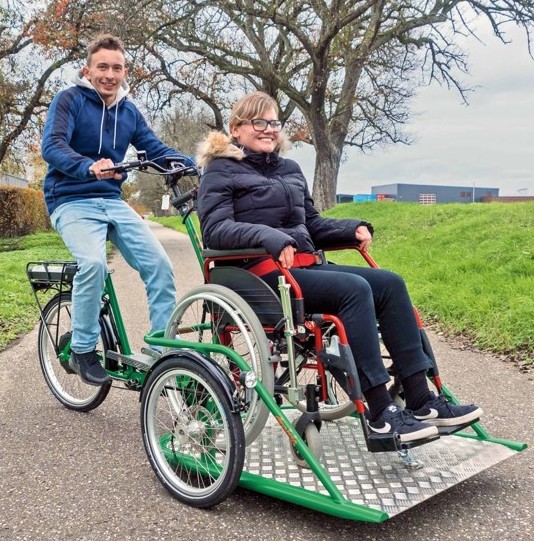 Draisin Plus - stable and adaptable